JOY STORY FOUNDATION SUPPORTS TWO KIDS FROM JALANDHAR TO MAKE SURE THEY ARE NOT BARRED FROM SCHOOL DUE TO FAMILY's POOR FINANCIAL CONDITION.
Name

:JANAT LUTHRA & CHAHAT LUTHRA

Location

:JALANDHAR

Help Amount

:Livelihood Challenge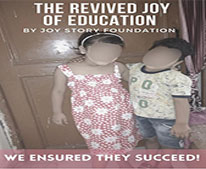 Livelihood Challenge
Ruby from Jalandhar has two daughters, in class 2 and UKG. The husband is unemployed from past two years, leading to family's poor financial condition. The parents were unable to support the education of the girls and the school was on the verge of striking their names off roles.
How Joy Story extended help
Joy Story Foundation extended full support for school fees and made sure these two kids are not barred from education because of families poor financial condition.
Impact
Joy story foundation's timely support helped them continue with their studies and their future saved from being jeopardised.